PA High School Football Update: SEC, ACC, Big 10 and other FBS Offers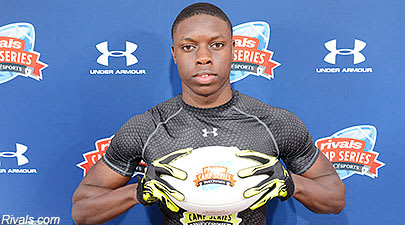 Within the past several days, Pennsylvania football players in the 2017 and 2018 classes have received offers.
ATLANTIC COAST CONFERENCE
Mark Webb's latest offer comes from Miami (Fl). The 4-star wide receiver currently has fourteen offers. Webb let us know that he doesn't have any favorites right now. As far as Miami goes, Webb says that they like the fact that he is a physical receiver and that he shows his speed off of screen plays. Webb also has ACC offers from North Carolina, Pittsburgh, Syracuse, Virginia, and Virginia Tech.
SEC CONFERENCE
Jahan Dotson, who already had several offers including two from in-state schools Temple and Penn State, has now caught the attention of a school in the SEC. Texas A&M became the fifth school to offer Dotson earlier this week. "The coaches feel that I fit in perfectly with their offensive scheme and they like my speed," said Dotson.

Imhotep Charter's Isheem Young now has an SEC offer to add to the collection. Young picked up an offer from Tennessee, giving him nine offers to date.

With over 20-plus offers, David Adams added another SEC offer this week from Florida. Adams also has other SEC offers from Mississippi, Mississippi State and Vanderbilt.

Curtis Harper's recruitment has definitely picked up since the end of the 2015 football season. Harper received his fifth offer from Maryland this week. Harper also has offers from Boston College and Iowa State.

Matthew Bauer is still one of the best kept secrets in Pennsylvania's 2018 class. Bauer picked up his third offer from Vanderbilt this week. Bauer also holds offers from Syracuse and Virginia.

MID-AMERICAN CONFERENCE
Trael Seegars picked up his first offer from Buffalo earlier this week.

FBS INDEPENDENT
Robert King picked up another FBS offer this week from Army. King also holds an offer from Temple.